Dr. Andrew Weil for Origins™
Mega-Mushroom Relief & Resilience Treatment Lotion
Active ingredient
Reishi, Hyaluronic Acid
Recommended for
Normal, Dry, Oily, Combination, Sensitive
Best For
Reduce redness & boost hydration
WHAT IT IS?
The step you never knew your skincare routine was missing. A light, soothing, watery lotion with Reishi, Sea Buckthorn & Fermented Chaga that perfectly preps just-cleansed skin for a serum & moisturiser. Alcohol-free and pH balanced.

WHAT IT IS FORMULATED TO DO?
Give the gift that helps our planet. Our watery lotion instantly boosts luminous hydration +83%*, rapidly soothes visible redness, and optimizes skin to better absorb your skincare products that follow. Best of all, a tree will be planted in partnership with Origins Green The Planet Fund that will be monitored and cared for.** Now that's a beautiful thing.

*Clinical testing conducted by Origins on 25 women, ages 19-62, immediately after 1 use. Effects vary by individual.

**In honor of Earth Month, $1USD has been donated to Origins Green The Planet Fund for every limited-edition Mega-Mushroom Treatment Lotion available at participating Origins locations and online at origins.com in select countries, including the U.S. Every $1USD donated will allow 1 tree to be planted and cared for. Origins Green The Planet Fund is a charitable fund of The Estee Lauder Companies Charitable Foundation, a U.S.-based charity incorporated and tax-exempt in the U.S.. Subject to its final discretion to ensure that funds will be used for the intended charitable purposes, Origins Green The Planet Fund has made a grant of $250,000 to One Tree Planted, a U.S.-based charity that plants trees around the world in support of global reforestation efforts. The total donation was made by Origins Natural Resources Inc.

WHAT ELSE DO I NEED TO KNOW?
Super foods like Mushrooms are nutrient-rich powerhouses. They've been used for centuries in Traditional Chinese Medicine. This light, refreshing treatment lotion with Reishi Mushroom, Sea Buckthorn and Fermented Chaga rapidly reduces visible redness and restores resilience. Skin looks and feels healthier. Leaves sensitive skin calm, comfortable, hydrated. Alcohol-free and pH balanced.

ORIGINS PRODUCTS ARE MINDFULLY CREATED WITH:
The highest-quality plant, earth & sea-based ingredients combined with non-toxic-to-skin alternatives and advanced science.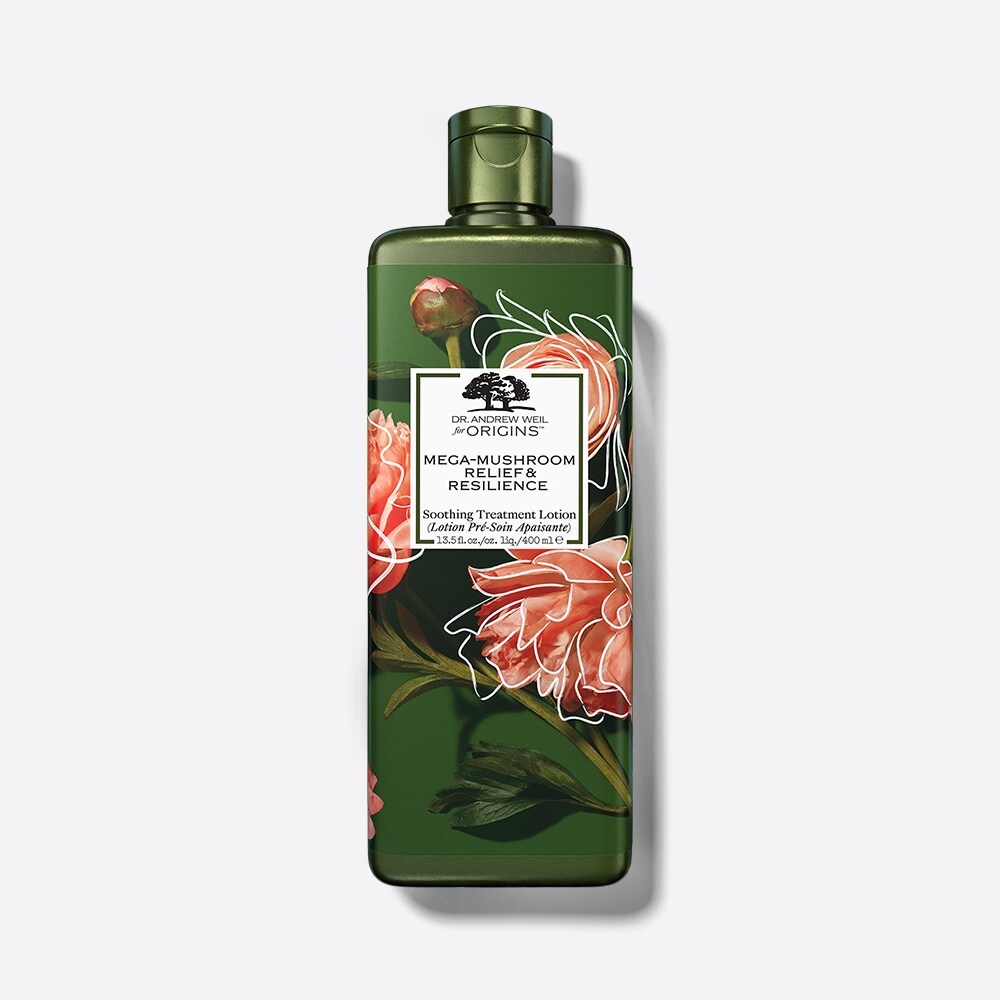 Dr. Andrew Weil for Origins™
Mega-Mushroom Relief & Resilience Treatment Lotion